April 6, 2021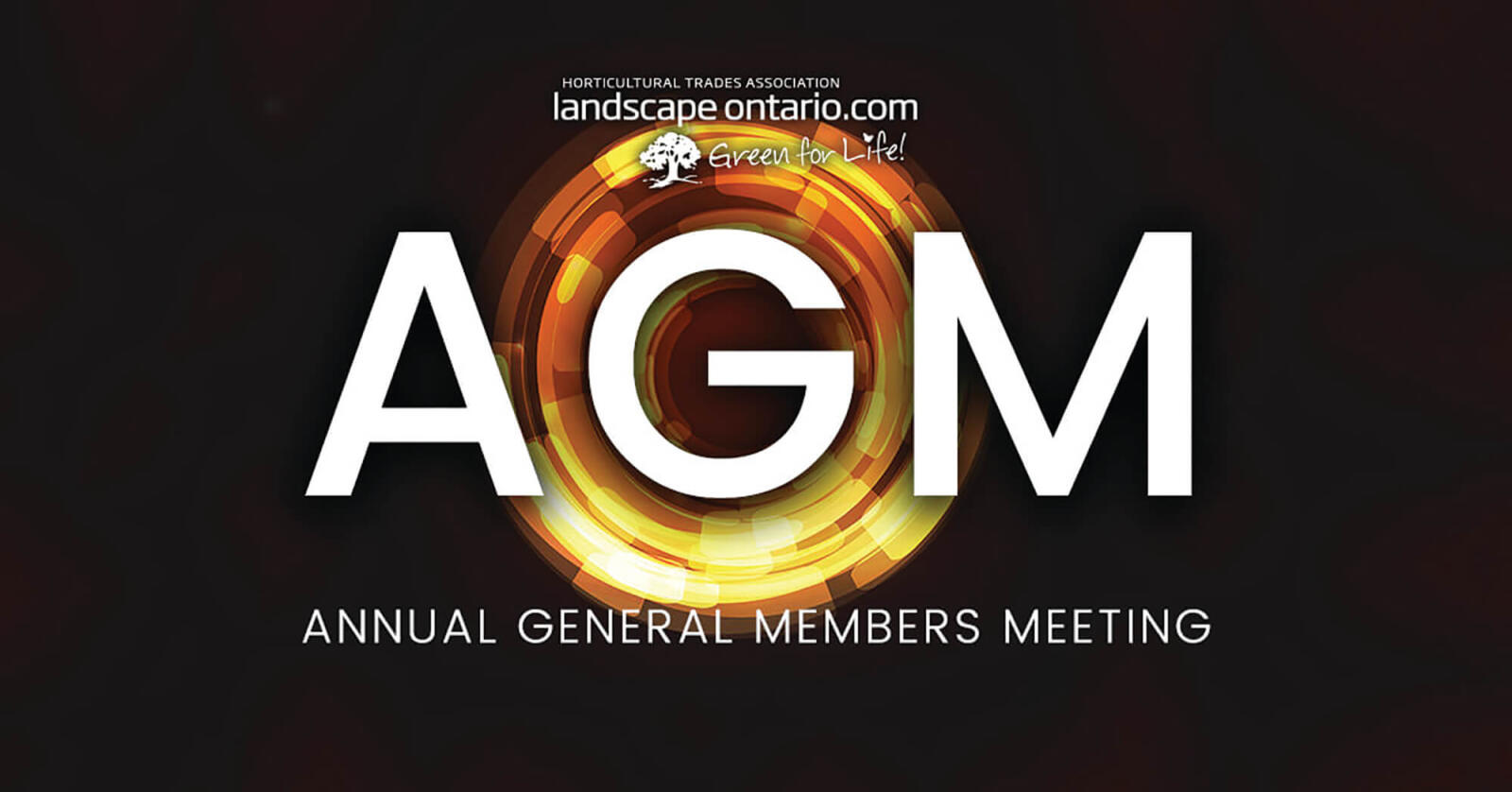 2021 AGM looks to the future
Nearly 100 people attended Landscape Ontario 47th annual general meeting via Zoom on March 17, 2021. The meeting provided a forum for members of the association to learn about initiatives over the past year and to provide input on the direction of the association for the future.

Dave Wright, LO President, called the meeting to order and welcomed those attending. Later in his report, Wright provided a brief recap of 2020, then changed direction. "I'm really tired about talking about what we've done, and more concerned now about what's happening on the road ahead," Wright said. He urged members to keep moving forward on implementing the Strategic Plan to attract talent to the profession and for members to pay better wages to attract those who are unemployed, new to the country, or considering other skilled trades. "There's a huge opportunity for us to build our labour force by making a few simple changes," Wright added, encouraging members to make their businesses more attractive to potential employees.

Sally Harvey, LO's Director of Education and Labour Development, gave a report on initiatives underway to provide more skilled labour as directed in the Strategic Plan, including the Get Ready for Opportunities at Work (GROW) program that was recently renewed for a second year. Harvey concluded by echoing Wright's vision: "The Apprenticeship program is truly a gift. We have 2,600 active members, we need 2,600 apprentices in our system. If every single employer supported one apprentice, just imagine where we could be in this profession."

The AGM provided a venue for a couple of announcements from LO home office, including a new initiative called LO Academy — a single online training and education hub that will include titles from the Professional Development Seminar Series, sector group conferences (IPM Symposium, Designer, Irrigation and Lighting Conferences), plus the 2022 Congress Conference program and Peer to Peer Network. LO Academy will offer up to 300 one-hour titles in both live and on-demand format from November 2021 to April 2022.

LO's event department also announced Congress Redefined, a live Congress Trade Show to take place Jan. 11-13, 2022. The team emphasized the live show will only go forward if permitted by public health officials, and that the event will follow all public health rules.

The projected budget for Sept. 1, 2021 to Aug. 31, 2022 fiscal year was approved.

Wright also announced members of LO's Provincial Board of Directors, plus sector group chairs and chapter presidents. Nominations for the two Member-at-Large positions were taken, with Jeff Olsen and Blake Tubby being awarded the two positions.

2021 LO Provincial Board of Directors:
Dave Wright - President
Lindsay Drake Nightingale - 1st Vice President
Ed Hansen - 2nd Vice President
Lindsey Ross - Treasurer
Warren Patterson - Past President

Chapter Representatives:
Chris Muller - Durham Chapter
Margot Byers - Georgian Lakelands Chapter
Tim Cruickshanks/Fran Mackenzie - Golden Horseshoe Chapter
Pam Cook - London Chapter
Steve Neumann - Ottawa Chapter
Jon Durzi - Toronto Chapter
Terry Childs - Upper Canada Chapter
Jason Dietrich - Waterloo Chapter
Jay Terryberry - Windsor Chapter

Sector Group Representatives:
Michael Van Dongen - Garden Centres
Brad Paton - Grounds Management
Andrew Barbour - Growers
Steve Macartney CIT - Irrigation
Stephen Schell CLT - Interiorscape
Peter Guinane - Landscape Contractors
Kelly Keates - Landscape Designers
Alan White - Turfgrass Management
Jamie Riddell - Landscape Lighting
John Agg - Snow and Ice Management

Members at Large:
Jeff Olsen
Blake Tubby