April 28, 2022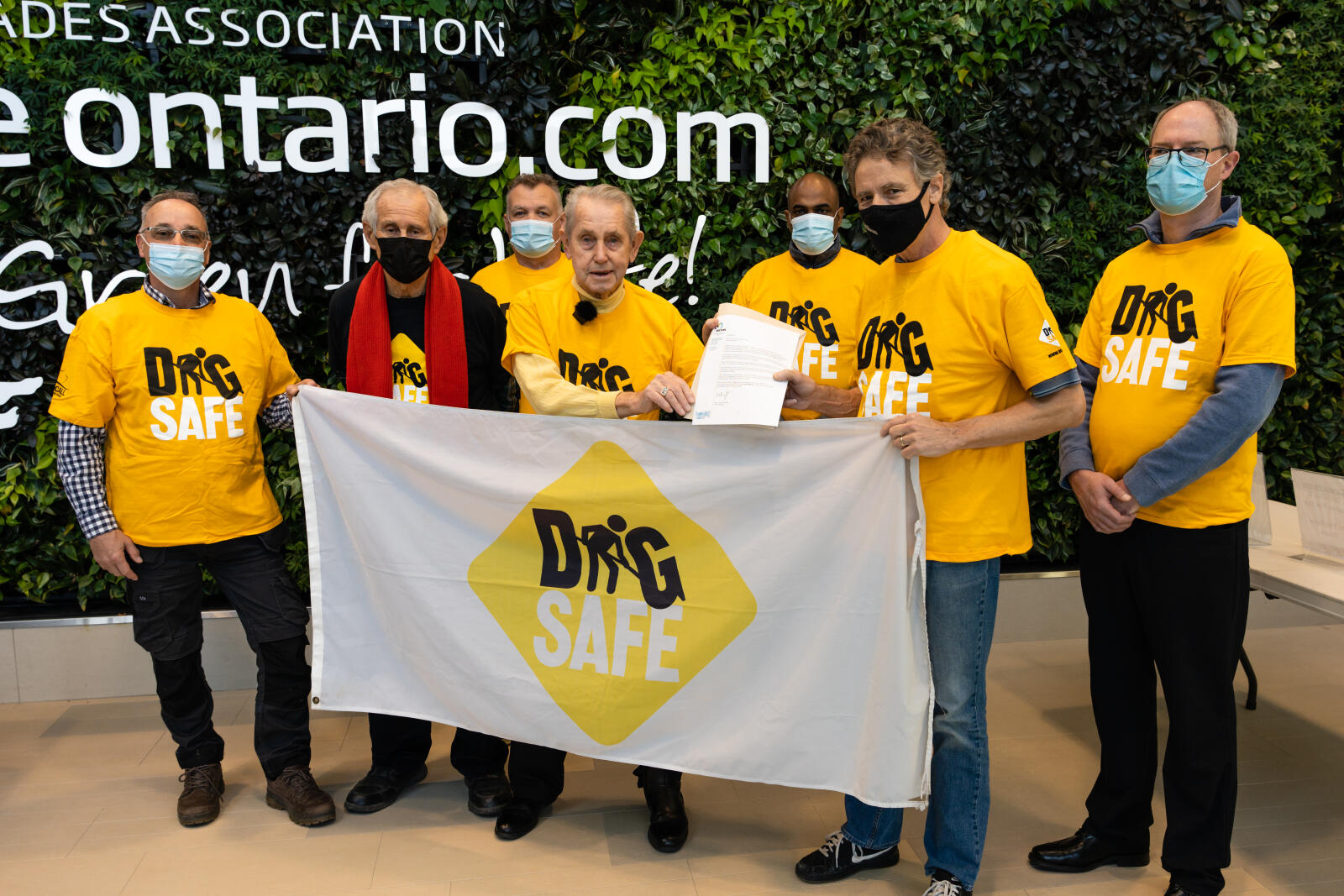 In a booming voice in true town crier fashion, Gordon Krantz officially proclaimed April 2022 as Dig Safe Month in the town of Milton, and encouraged support of the safety awareness campaign.
The long-serving mayor announced the proclamation at the Landscape Ontario head office. He was joined by representatives from the Ontario Regional Common Ground Alliance (ORCGA), Halton Region Water and Wastewater Linear Systems, Enbridge Gas, and Landscape Ontario.
Terry Murphy, one of the board directors of ORCGA, opened the presentation by stating the goal of Dig Safe Month is to raise awareness and reduce the number of utility hits caused by unsafe digging practices across Canada. "It's almost a billion dollars in damages. It's more than 10,000 utility hits," Murphy said, before introducing Doug Lapp, president and CEO of the ORCGA.
Lapp acknowledged collaborating partners, such as local utilities, have a collective desire to encourage homeowners, landscapers and excavators to "call or click before they dig" to obtain locates by calling 1-800-400-2255 or visiting
ONTARIOONECALL.CA
.
Locates map out where utilities such as gas lines, electricity, telephone, internet and TV cable wires, as well as water and sewer connections may be buried underground. The free service paints markings on the ground to indicate what lays below. It's important to note that existing locates can become outdated if any work is done in the area, so it is worth requesting a current locate at least a week before starting the dig.
The spring announcement is timed to reach homeowners and professional landscapers as they plan new outdoor projects. Lapp said "we celebrate this in the months of April and May as dig season kicks off once the frost leaves the ground."
Mayor Krantz cautioned to not take anything for granted, even for small projects. "We don't know where a little wire or cable might be," Krantz said. "Even if it's you and I using our own shovel, we can cut a wire."
Construction workers must be especially aware of personal safety and potential damages to underground infrastructure. Krantz said "You've got to be really, really careful when you're digging, regardless whether it's a water main, water sewer or hydro. Whatever it is, it's really important."
The Canadian Common Ground Alliance (CCGA) maintains a record of reported incidents from across the country and releases details of estimated costs and causes. Learn more about the
slight improvement
seen in their most recent DIRT Report.