June 2, 2023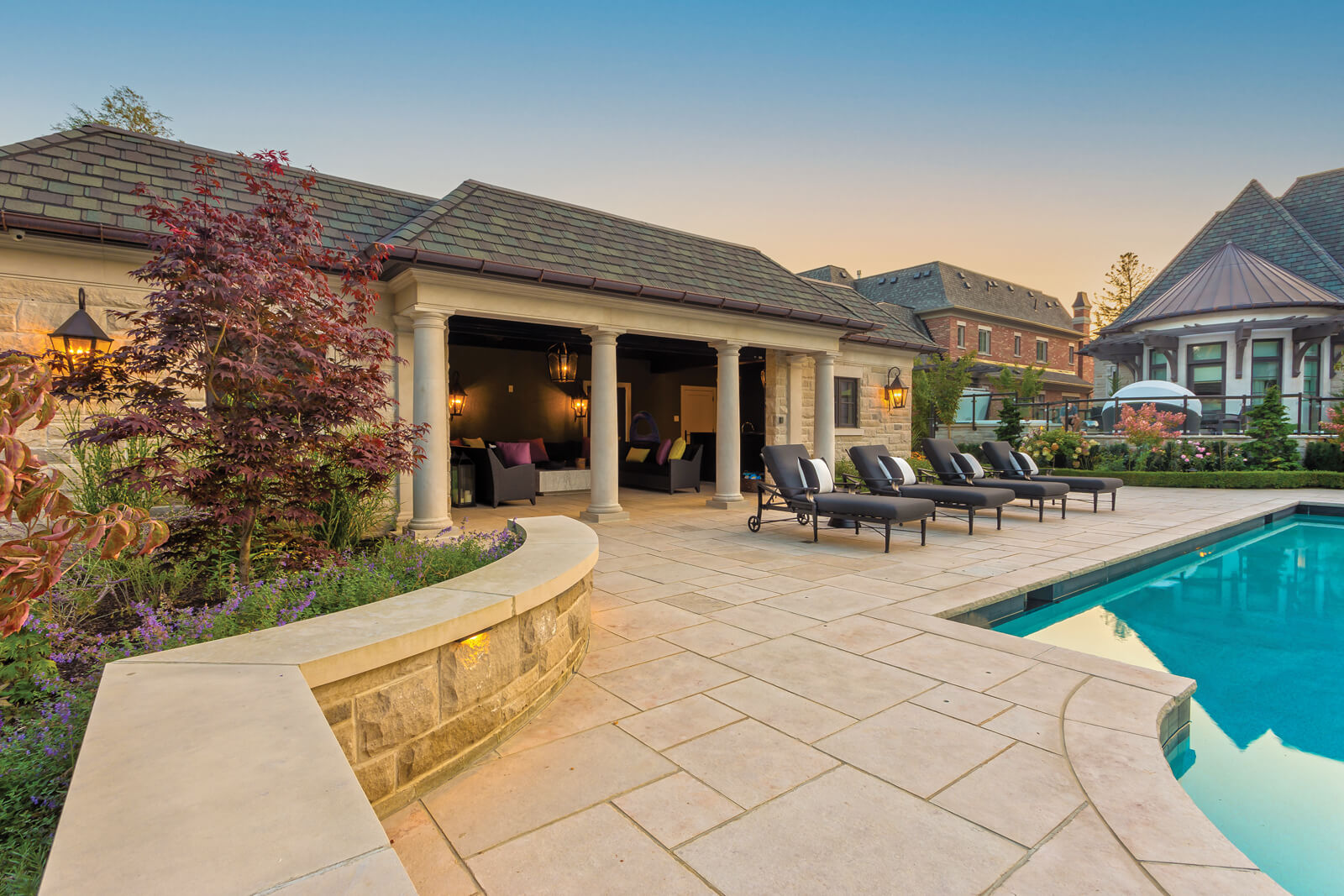 Select Stone celebrates three decades of growth
By Karina Sinclair
Tony Schenkel loves natural stone. He's built an entire career around it. In fact, his company Select Stone Supply is now celebrating 30 years of specializing in boulders, blocks, and other bespoke stone products. From a rocky start to an evolving enterprise, the willingness to help — and be helped — have been instrumental in Select Stone's success.
The early days
Schenkel fell in love with machines at a young age. His father was a carpenter and home builder, so Schenkel got an early introduction to construction job sites. An early summer job involved operating tractors and equipment at a produce farm. "Then my first serious full-time summer jobs were in landscaping. That was just a natural go-to," Schenkel said. "There was a lot of landscapers in our community and it was quite easy for me to get a job there. I realized I really enjoyed that. I liked the physical work, I liked building things."
He continued to work in landscaping, and then went back to school to study business. "I didn't particularly like school that much, although I do like learning," said Schenkel. He struggled with what to do next until an acquaintance offered a suggestion. "He said, 'There's a market out there for somebody who gets a crane truck that can go to different sites of suppliers, quarries and pick up stone and deliver those to sites for landscapers.' I was 22 at that time, and I decided, 'Okay, I am going to start with this.'"
Stuart Schenkel is the yard manager at Select Stone and has worked with his brother for over 22 years. "I remember when he bought his first truck, how nervous he was," Stuart said. "Huge stuff, young guy, early twenties. It was a big deal. But he just had that drive. He wanted to make it happen. I wasn't able to see that far ahead. He could."
The first few years were tough. Schenkel hustled to make connections at quarries, handing out business cards and slowly collecting leads. He admits it was hard to build credibility when showing up with an old crane truck. While in between deliveries, Schenkel would subcontract for his former employer. "I would jump in one of his trucks, drive to do site work for him and kept up a really good relationship," he said, recalling how this presented his next big opportunity. "He had a much newer and much better crane truck that was actually underutilized. I approached him and said, 'Would you be interested in selling me that truck?' And he actually said to me, 'Tony, I was thinking of talking to you about the same thing.'"
Buying the second truck cost about five times the price of the first truck, but having such a strong relationship with his former boss helped Schenkel grow his business and reputation. "That's when I started to become quite busy," Schenkel said. Next, he bought a trailer and was able to source and deliver more stone to landscapers. At the same time, he built a rapport with nurseries and began delivering nursery stock and trees.
Schenkel rented space at a nursery to establish his soon-to-grow supply yard.
---
This might be where some people would say it was pure grit and long-term vision that kept them going. Schenkel gets real about his major motivator. "It was fear. And I realize that's maybe not the most eloquent answer, but there was absolutely that piece of it where I did not want to fail. I made a financial commitment with the bank. I was in the lake. I had to swim and swim, I did."
Schenkel was quick to add that there was fun, too. "The relationships that started happening with people — I started to realize how many people would actually come alongside and help you," he said, referring to fellow peers and mentors who helped champion him along the way. He credits those relationships for fostering his success. "They gave some awesome ideas. You know, the idea to buy a crane truck wasn't my idea. It was somebody else's idea."
A place to call home
With two crane trucks and a tractor trailer on the road, Schenkel enjoyed the growing credibility. He could pick up more boulders than ever before but with nowhere to store them he needed to find landscapers who could use those materials immediately.
Around the same time, one of his clients proposed to run a stone yard together alongside his high-end nursery. "I actually politely declined on the partnership," Schenkel recalled. "But I said, 'I would love to rent space from you and open up a yard.' So that is actually what we did in 2001."
The small back corner of land served as a holding area while Schenkel found contractors to buy loads of stone. It didn't take long before he started to outgrow the space so he reached out to his network again for help to find property to purchase. In 2004, Schenkel found an undeveloped 11-acre parcel in Burlington, Ont., that would become the long-term home of Select Stone.
"From there it just grew bit by bit by bit," Schenkel said. "I had a number of pieces already in place before we actually physically opened up a stone yard. I didn't even realize it at the time, but I had two trucks already. I had customers already, I had suppliers already. We had quarries that we were going to. So we were actually just expanding on something that we already had. It wasn't that, all of a sudden, it's like, 'Okay, start up a stone yard, buy a bunch of trucks, find a bunch of yard suppliers.' It was actually just an expansion of what we had."
Over the past few decades, Schenkel has seen other stone supply yards come and go. He didn't worry about the rivalry. "At a certain point in time, you get fairly secure in what you're doing. You have your customer base, you have your relationships. Competition is not always a bad thing," Schenkel said. "There's actually a lot of work where we are, and it never really impacted us in a negative way. It actually gave us some really good relationships with other yards where we buy and sell materials back and forth with one another."
Progressive career growth
As Select Stone grew, so did the staff. "We have a company of over 20 people. We move a tremendous amount of stone. Things have grown substantially," said Stuart, who is just one of many employees who has been with the company for a long time. "When Tony was building this company, I knew that he had this vision to have the best people in place. So he really made it his mission to hire good people, treat them well, and it'll just be reciprocated."
Bartels has enjoyed a 17-year career progression at Select Stone that led to the top. He started by helping contractors out in the yard; his next advancement came when the business bought a stone saw. He asked to be trained to operate it and soon slipped into running production. Schenkel recognized Bartels' dedication and talent by promoting him to general manager, and in 2019, Bartels accepted the opportunity to become a partner.
"Working with Tony, he treated me so great that I just want to stay here. It just was never really an option for me to look elsewhere," Bartels said. "There's a sense that you're genuinely cared for and respected. Your ideas matter. Your input matters. When I started working here, Tony was very clear. It's not about 'Let's put in more hours and sell more stone.' It was also very much about work-life balance."
Part of achieving work-life balance meant Select Stone was one of the few supply yards that didn't open on Saturdays. Although it wasn't always a popular decision for customers, Schenkel felt it was important to preserve family time for his employees.
"With Tony's long-term vision, you get the right people in place and it should be a well-oiled machine."
— Stuart Schenkel, Yard manager and longtime employee
"Any time I've talked to him, he's always been really concerned about that. He cares about all of our families," said Matt Crease, supply chain manager. He explained how his professional development has been supported during his 11-year tenure: "From the very beginning, there's always been consultants brought in to push us forward, whether it's been lean or sales or leadership. But also, there's been the opportunity to go and get training outside, so I went back to school." With tuition covered by Select Stone, Crease studied operations management and perpetual inventory systems, and earned certification in supply chain management.
"They want to have the best practices. So they're always pushing and striving to do that," Crease said. Crease appreciates that his humble boss is more concerned about how he's doing, and less about profit or personal gain. "He's still driving the same truck from when I first started here 11 years ago," Crease chuckled. "The company has done amazing and grown drastically in that time, but he's still the same Tony from when I first started. He just cares, you know?"
No room for ego
The business has grown, but Schenkel's ego has not. Even after 30 years, he loves to roll up his sleeves and get dirty. "I prefer some of the hands-on jobs myself. I actually take some satisfaction in sweeping the shop. I actually really enjoy that," he said, recounting how he has been mistaken for a labourer by customers who have seen him covered in dust. "I take strange satisfaction in that too. Every job and every person has intrinsic value. We're all human beings and we're all actually equal."
Select Stone supplied LandArt with materials to create a textured oasis in historic Hamilton, Ont.
---
When asked how he feels about his journey from that first crane truck to a new thriving enterprise, Schenkel said looking back at all the photos has been surreal. "Thirty years goes by very quickly," he said. "[Business] is all about people. Sure, there's machines, there's processes, but a machine doesn't have thoughts, feelings, or other challenges we all have in life. But people do. So we have to be sensitive. We have to be loving."
Considering love is the top core value at Select Stone, it's no wonder the clients come back and the employees feel confident about the future. "It's hard to know exactly what's going to happen 50 years from now," Stuart said. "But with Tony's long-term vision, you get the right people in place and it should be a well-oiled machine." Supply chain manager Crease finished: "It's really exciting to see how far we've come and then how far we can go."