June 2, 2023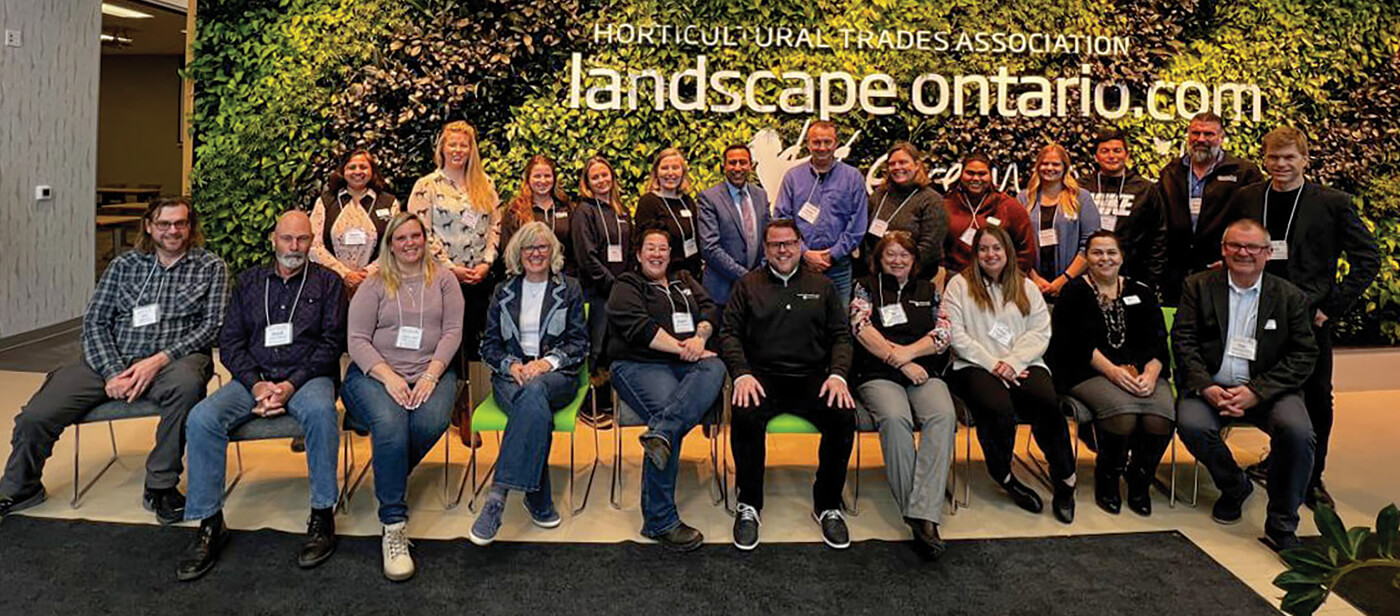 Special meeting focuses on leveraging apprenticeship program
On March 10, Landscape Ontario hosted an employer sponsor event to discover ways to better utilize and leverage the Horticultural Technician Apprenticeship Program (HTAP).
The full-day event consisted of speakers, an employer panel and breakout sessions to explore the best ways to leverage apprenticeship to better help employers retain and recruit staff, and a discussion with MPP Deepak Anand, the Parliamentary Assistant to Minister McNaughton, Ministry of Labour, Immigration, Training and Skills Development (MLITSD).
LO wishes to extend thanks to all those who took part in this important event, especially speakers Dan Cardinal, Skills Ontario; Jason Taylor, Predictive Success and Paul Doornbos, Thornbusch Landscaping; who provided a wealth of information.
The employer panel made up of Peter Guinane, Oriole Landscaping; Krystal MacMillan, Christine's Touch Gardening and Hilary Harrison, Unique Landscape Services; offered a great representation of the landscape and horticulture industry and a variety of experiences with the apprenticeship program.
Deepak Anand gave a provincial apprenticeship update and provided employers with the opportunity to ask questions and share their challenges. When asked, "What advice would you offer employers and staff members who have not taken advantage of the Horticultural Technician Apprenticeship Program?" our panellists responded with:
"[With the apprenticeship program] you get back employees with better skills than when you started. We have an opportunity to show new recruits that there is a pathway to a career in [landscape and horticulture] that can take you as far as you want to go… and apprenticeship is part of that journey, it opens up more doors," said Peter Guinane. "It all contributes to the skill level of the company. If all [employers, trainers and staff] contribute to professional development and foster a growth mindset to help employees find their opportunities [for growth] it will make a world a difference to your company."
Krystal MacMillan, who completed the apprenticeship program herself, said: "Don't hesitate, there is no reason not to be doing the apprenticeship program. Everything that Landscape Ontario's workforce development programs [the Horticultural Technician Apprenticeship Program, the GROW Training Programs and the Professional Development Series] offer support our industry. Businesses ask 'How do we get people to stay?' — this is how we get them to stay, by utilizing the programs that so many people are working so hard for organizations to use in order to have a viable workforce going forward. Everything is right here, just make use of it."
Landscape Ontario is here to guide you and your employees through the apprenticeship program from start to finish. To register your staff as apprentices or to become an employer sponsor, visit
horticulturetechnician.ca
. To find out more about the GROW Training Programs, visit
growtraining.ca
.