December 6, 2022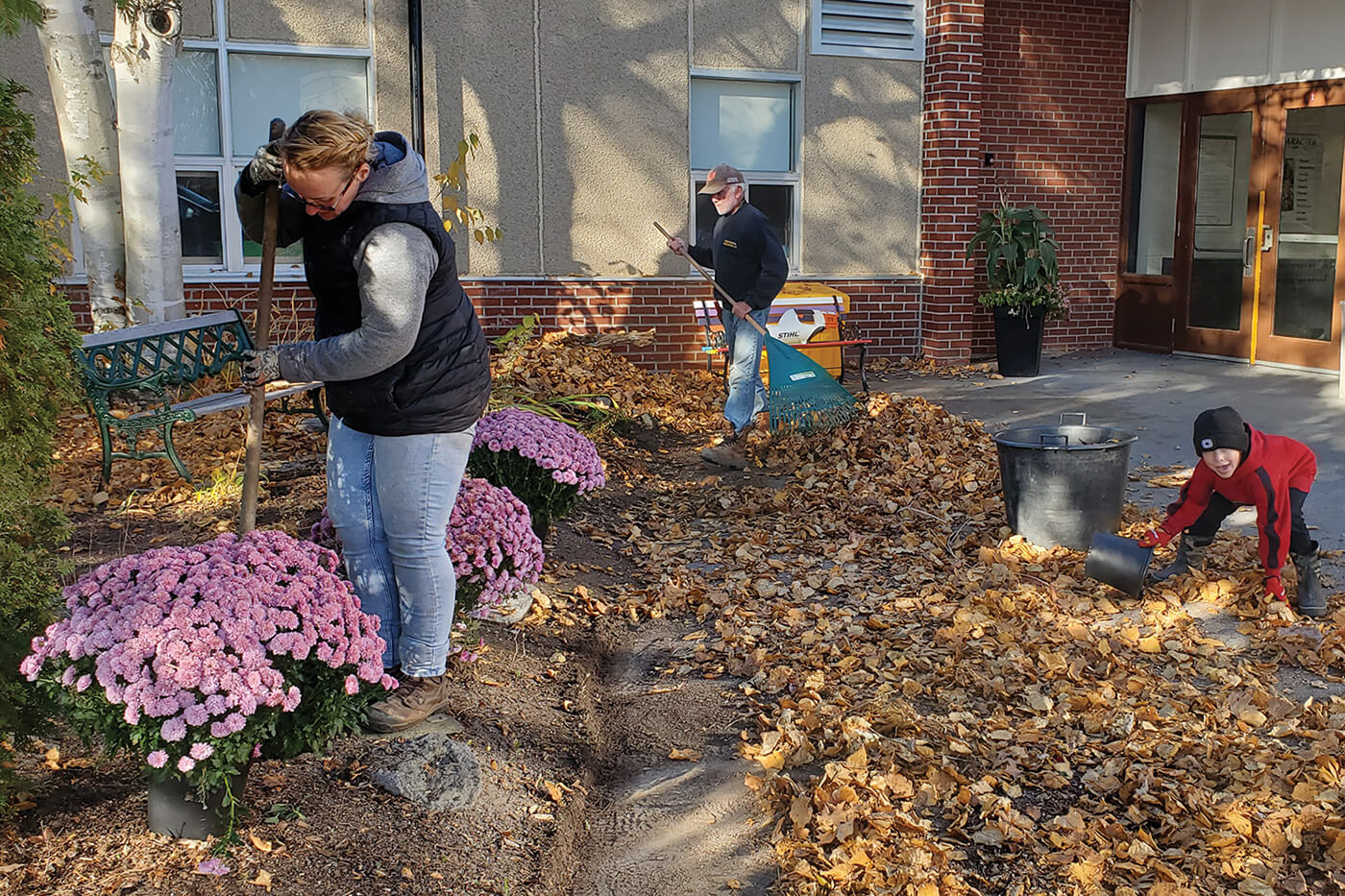 Upper Canada Chapter supports community schools
Landscape Ontario's Upper Canada Chapter made a positive difference at two local elementary schools this fall. Members came together on Oct. 29, 2022 to volunteer their time, donate trees and fall flowers to improve outdoor learning environments for students.
"Shade trees are sadly lacking in many of our local schools, and the need has never been greater," explained Rhonda Derue, owner of Derue Designs in Gananoque, Ont., and Treasurer on the Upper Canada Chapter board. "Our Chapter decided to help out two schools this season by donating and planting 11 shade trees at Marmora Public School and four at Stockdale Public School (SPS). Stockdale also received a new ball diamond and had their front plant bed leaves/weeds removed, beds mulched and fall flowers added. Once Softball Ontario heard about our initiative at Stockdale both the OASA and PWSA enthusiastically donated a huge amount of equipment to enable the kids to play ball again on their new diamond."
Upper Canada Chapter would like to give a shout out to everyone who contributed:
Connons Nurseries (Waterdown and Trenton): Donated fall flowers and discounted trees to both schools.
Dibbits Landscaping Supply (Trenton): Donated soil, mulch to both schools and stone dust for the ball diamond at SPS.
Willowlee Sod (Ameliasburgh): Donated sod for SPS ball outfield.
Softball Ontario Association OASA and PWSA: Donated ball equipment to SPS.
Dimitri's Pizza: Donated pizza and drinks for volunteers at SPS.
Thank you to everyone who volunteered their time to support these projects:
Marmora Public School
Lyman Landscaping: Ben Lyman, Bo Manon, Liam Filijeski, Paul
Connon Nurseries: Lisa Smith, Ben Austin
Stockdale Public School
Derue Designs: Rhonda Derue
Lamer Landscaping: Chris Lamer, Bailey and Landon Broadbend
Mark of Excellence Landscaping: Mark Lappan
Causative Solutions: Tara Lock
Gunn-Duncan: David Gunn
The Dewal family: Sarah, Chris, Cohen and Cullen
The total retail value of this initiative was approximately $35,000 split between the two schools.